Do you remember when you were in high school, back in time you would make a journal or a diary where you feel yourself breathing when the internet came in, it brought huge options which modernized everything we had in the past, from a cassette of your favorite Dire Straits album into an mp3 file and from a cable television reception into IPTV access which only streaming via your DSL or OpticalFiber line and now with WordPress you can feel the difference, I don't remember when was the last time I used my pen, those days of the 80s were the best anyways, internet will become worse and worse as technologies develop, good things will appear as bad things will do as well, but from that I have to admit that internet made me a lazy person! yeah, unfortunately 🙁
Come on, what is it then?
So what is WordPress? Simply, it is the best way to create a blog or a website, it empowers the whole Web utilization, a simple Google search will show you tons and tons of information about WordPress from how to install it, how to get a theme to customize the appearance, how to get plugins to make your website more attractive with more functionalities. Most of the websites you are visiting on the web are powered by WordPress.
In technical terms, WordPress is an open-source content management software or CMS for abbreviation. It is actually a tool that makes it easier for you to manage important parts of your website – like content – without needing to know anything about coding.
If you are not familiar with WordPress at all, in the past, WordPress was a tool to create a blog, nothing fancy here, just a regular blog rather than a traditional website, with time, WordPress started to show some muscles by improving its Core Code which will allow you nowadays to create any sort of website you come up in mind only with WordPress.
For instance, you can create an e-commerce web site for buying/selling by accepting Credit Cards payments, PayPal Payments, etc… you can create social networks, portfolios, forums, paid membership sites, I guess you got the idea…
Who Created WordPress And How Long Has It Been Around?
WordPress was created as a standalone project all the way back in 2003, originating as an offshoot of a previous project called b2/cafelog.
WordPress is open-source software, so nowadays it has a massive community of contributors which are taking care of it, thankfully. But if we were to trace WordPress' origins back to its roots, its original creation was a collaboration between Matt Mullenweg and Mike Little. Hello guys!
Since then, Matt Mullenweg has largely become the face of WordPress. And he's also the founder of Automattic, which is the company behind the for-profit WordPress.com service.
The history of WordPress between its founding as a blog platform back in 2003 and today is a long one…
But suffice it to say, WordPress has pushed forward and, thanks to its contributors and huge community, developed into the most popular solution to create any type of website.
Who Uses WordPress?
WordPress is used by individuals, big businesses, and everyone in between! On an immediate note, we use WordPress! So the very site that you're looking at right now is powered by WordPress. Lots of other well-known entities use WordPress as well. Here are some of our favorite examples:
Whitehouse.gov
The official Whitehouse.gov website is powered by WordPress:
Whitehouse.gov is powered by WordPress
Microsoft
Microsoft uses WordPress to power its official blog. It also uses WordPress to power blogs for specific products like Windows and Skype:
The Rolling Stones
Even famous bands love WordPress! The Rolling Stones' website is powered entirely by WordPress: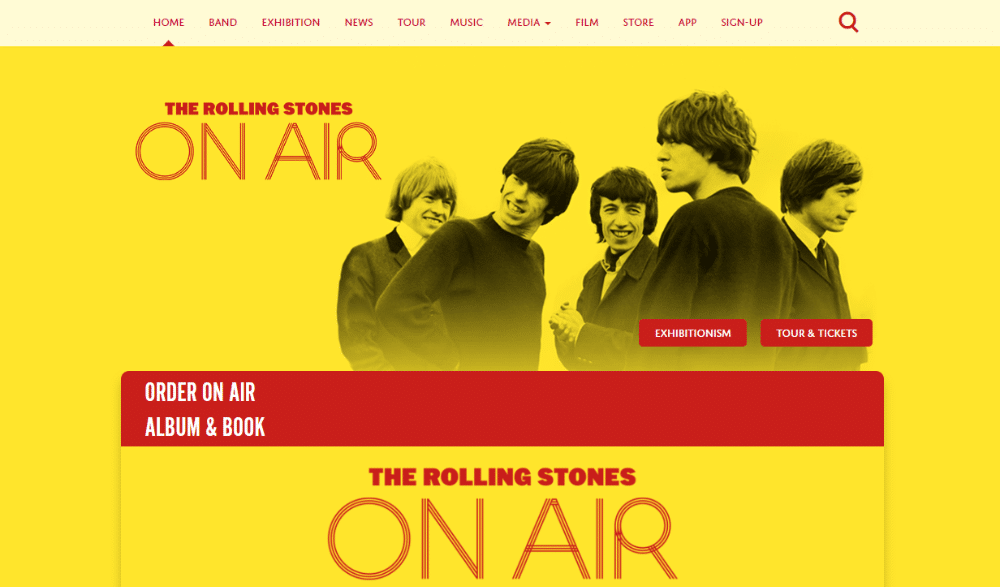 The Rolling Stones band website uses WordPress
Why Should You Use WordPress?
Ok, so over 34% of all the websites on the Internet are using WordPress, including well-known entities like the White House and Microsoft.
But what about you? Why should you use WordPress?
Well, no matter what type of website you want to create, there are plenty of reasons to use WordPress. Here are some of the biggest:
WordPress Is Free And Open Source
One of the biggest benefits of WordPress is that it's free, open-source software. While you will need to pay a little bit for hosting, you will never have to pay just to use the WordPress software, which isn't the case with alternatives like Squarespace.
It's Easy To Find WordPress Help
Because WordPress is so popular, it's easy to find help if you ever run into any issues. There are heaps of…
Blogs
Tutorials
Forums
Facebook Groups
Developers